As an actor, Sean Dillingham has appeared in over 98+ commercials and 50+ films and 17 national television series.  He's had network television appearances on Operation REPO, Discovery ID, Buried in the Backyard, The NightShift, Longmire, Brooklyn Nine-Nine, This is Us, There's Johnny, Yellowstone, Gentified & Better call Saul!  He has acted alongside Kevin Costner, Tony Danza, Jane Seymour, Patrick Duffy, Roger Bart, Don Ameche, Stacy Keache, John O'Hurley, Andre Braugher, Andy Samberg, Milo Ventimiglia, Bob Odenkirk, America Ferrera and more. 
Sean had a chat with us about his career which you can check out below.
---
First of all, when did you first get the acting bug and how did you make the transition to acting?
Grade school – was in my first school play.  I was painfully shy as a kid – performing was a way to bring me out my shell.  It wasn't ME on that stage, it was the character I was playing. I progressed though high school drama, community theatre, semi-professional theatre, then into an improv troupe.  I found at that point improv to be the BEST training for me.  I wasn't locked into someone's teachings or techniques, improv taught me to rely on my own instincts, emotions, characterizations, act-outs.  Plus on sets you don't have a lot of time to find a characters motivations, and what transpired right before this event that brought me to this moment.  Sometimes, a lot of times, a director will say "you're angry" or "You're hysterical".  Well, you better find it and find it quick!  Improv teaches you that like nothing else!
You have a background in improv; do you enjoy being given an opportunity to improv in your acting roles too?
I'm an actor first and foremost, I follow a script and direction.  It's the director's vision and a collaborative effort from a lot of people however, I always go in with 3, 4, 5 different ways to do something because I am once of those actors whose mind works like that, and sometimes it's nice to be able to say "Lets try this or this or this"  It might be something that no one else thought of and works great!  That's happened a lot.  Don't get me wrong, I have ideas and suggestions but by no means do I go into any situation like "THIS is how I see it working best".
Any major franchises you'd particularly like to get involved with?
Not really – I like to work!  No project too big or too small.  If it interests me and allows me to keep acting – I'm in!
It's been said that comedic performers make the best dramatic actors and I'd have to agree; what are your thoughts?
I don't know if I'd agree with that.  Sometimes, it comes down to just the person.  I've done a lot of comedic stuff, but I like film acting, for the intense acting, no rushing, experience.  I don't know if that has anything to do with my background or the fact I love acting.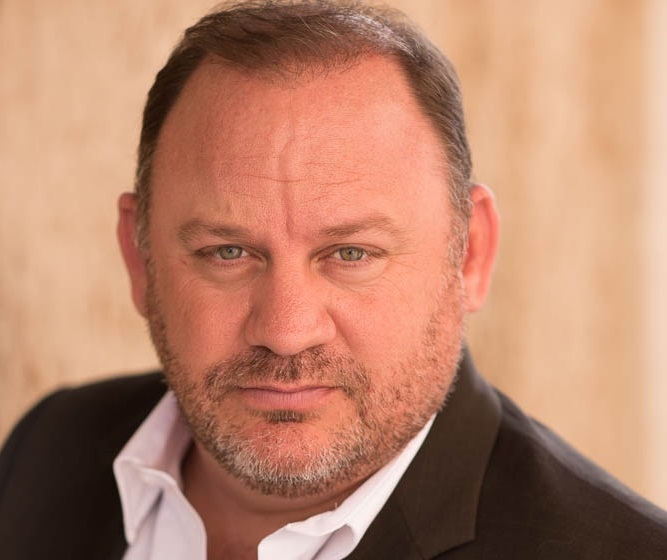 How do you find working on television compared to film? Is there a greater opportunity to really get to know your characters n TV?
Commercial acting is fast.  Usually shot in a day, sell the product, smile, acting happy, done.  A TV show you've got a week, again, crunch schedule, move, move, move.  A movie is my favorite. Dialogue is shot in small chunks, different angles, you really get a chance to get into your character the scene, the whole film.  That's my top preference!
You've worked on Yellowstone starring Kevin Costner; how was that?
Terrific!  Great cast, great director and such a work ethic!  14 hour shoot days – it was "we don't stop until we got it"  I loved it!  Plus who doesn't love westerns??
You directed a short in 2008; do you have any plans to direct in the future?
No not really, I did a few shorts and one even got turned into a music video – but no, no directing.  I just wanted to experience and learn what is what like on the other side of the camera to make me a better actor.
You've worked in multiple genres; what is your favourite and is there still one you'd like to tackle?
Drama.  And westerns to boot.  Anything really with a small cast where you really get to know the characters.  These types of films bring the audience in the best.  Gives them a chance to really know the film, the story, the characters.  I've seen some films with a cast so large, half way into the film you're asking, "Now, who is this guy?"  Not good.
What kind of characters are you drawn to?
The heavy.  Usually the bad guy.  Which I like.  Intense, no rush, you can really draw an audience in, if you know your stuff in film work.
Following on from that what has to jump off a script for you to be interested?
A character that's pivotal to the plot.  Not just a walk on, walk off guy, but someone who comes in, stirs the pot.  Gene Hackman seems to get a lot of those roles.  Clint Eastwood.  Those type of characters.
Do you have a dream project you want to get off the ground?
I have several films in the can I have high hopes for and several TV pilots being shopped.  I have my fingers crossed of course that any of those hits it over the center field wall.
Tell us about some upcoming projects you're excited about?
Netflix "Rattlesnake"
AMC "Better call Saul"
"Wasteland 3" video game short film
"Manson Brothers Midnight Zombie Massacre"
Put all those on your "To Watch" list!