Explosive
Summary
Shakedown remains a hugely entertaining movie with our leads immediately appealing and several truly spectacular action scenes. Shout! Factory have provided some fascinating special features making this the definitive version of this movie.
Plot: A burned-out legal aid attorney (Peter Weller, RoboCop) reluctantly teams up with a renegade police detective (Sam Elliott, Tombstone) to find the truth behind the fatal shooting of an undercover cop by a notorious drug dealer.
Targeted by a syndicate of corrupt cops and drug lords, the duo blast their way through the underbelly of New York in their unrelenting search for the shocking truth behind the crime. Filmed on the streets of Manhattan, Shakedown features some of the most incredible stunt work and chase sequences ever shot, including a death-defying fight scene atop Coney Island's Cyclone roller coaster. Delivering non-stop thrills from start to finish, Shakedown is one the most entertaining high-speed cop films ever made and among the best from action genre vet James Glickenhaus (The Soldier, The Exterminator).
Review:  I've always been a huge fan of director James Glickenhaus; his movies usually consisted of awesome action scenes (McBain) and creating an atmosphere of sleaze and dread (The Exterminator). He painted a very dark picture of New York during the 80s, making it look like Hell on Earth which it very much was.
Shakedown may be one of Glickenhaus' more commercial movies but it still shows New York as a sleazy and wild place with porno booths everywhere and crack pipes lying on the ground; in this Blu-ray from Shout! Factory Glickenhaus talks about how New York is nothing like that now but he also laments how movies like this don't get made anymore either.
When we are first introduced to Richie Marks (Sam Elliott) he is dozing in the cinema watching The Soldier (another Glickenhaus movie) while holding a beer; he's been kicked out by his wife and spends his nights at "The Deuce" (42nd Street).
"The Deuce" didn't exactly look like an appealing venue to go to the movies but the scene gives us an idea of who Marks is; a man who is clearly down on his luck and doesn't have a whole lot of faith in anything. We find out he is a police officer who has been working with a particularly nasty bunch of corrupt cops. He teams up with defence attorney Roland Dalton (Peter Weller) as they investigate the murder of an undercover police officer. The story has several twists and turns and not the buddy movie you may be expecting. On the Blu-ray Glickenhaus talks about how the inspiration for the story was in a newspaper article he read which was about a drug dealer who shot a cop and he said it was self defence. The director developed it into Blue Jean Cop (which it is called in various places around the world) but it was changed to Shakedown for North America.
There are a few nice touches of humour and Sam Elliott just needs to walk on screen to be cool; he looks perfect as the disheveled Marks. Dalton is an interesting character that is well developed and although he's an attorney, he is not a man who doesn't make mistakes either. He cheats on his soon to be wife with his ex-girlfriend so he's not a true blue hero type at all. He does believe in justice however, and is determined to prove that the drug dealer who was arrested for killing the police officer only did it out of self defence.
Our two leads have great chemistry on screen and I would have liked a few more scenes with them working together but it perhaps would have lost credibility as Dalton was a lawyer, not a cop.
There are several stunning action set-pieces; the first is a car chase through through the streets of New York with some impressive stunts but the real highlight is the fight on top of the Coney Island's Cyclone roller coaster which was all done for real including derailing the roller coaster which I didn't know until I saw this Blu-ray. The stunt work in this movie is jaw dropping but the finale with the plane loses a point for some unconvincing bluescreen which does take you of it as the rest is so grounded.
The music score features some synth and generally helps to create the sleazy atmosphere but also ratchets up during the action scenes; there is neon and bright lights everywhere all just adding to the seediness.
We get a fantastic supporting cast too featuring the likes of John C. McGinley and Antonio Fargas who shines as the villainous Nicky 'N.C.' Carr.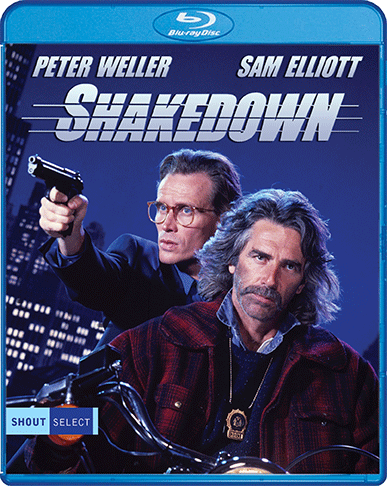 Bonus Features
NEW Introduction By Writer And Director James Glickenhaus
NEW Audio Commentary With James Glickenhaus
NEW Shakedown Breakdown – An Interview With James Glickenhaus
NEW Miles Over The Limit – James Glickenhaus Discusses Miles Davis
Still Gallery
Theatrical Trailer
The special features for Shakedown are what make this truly a must-have as the interview with James Glickenhaus really goes into detail about making the movie as does his audio commentary. He's a straight shooter who doesn't bullshit around giving us great insight behind the scenes.
Overall, Shakedown remains a rather underrated action film with two magnetic leads and some amazing action sequences; this Blu-ray from Shout! Factory is the best the film has ever looked and sounded and the special features make it a must own for genre fans.