This autumn will see action galore, as STUDIOCANAL releases a brand new, uncut 4K restoration of the 80s cult action thriller LOCK UP (1989) on September 23– just in time for the highly anticipated return of Hollywood icon Sylvester Stallone to the big screen in Rambo: Last Blood.
LOCK UP stars bona fide Action Hero and Academy Award® nominee Sylvester Stallone (2015, Best Supporting Actor, Creed) as Frank Leone, a convict who can't seem to escape the wrath of delightfully villainous warden Drumgoole, played by Donald Sutherland. The action that ensues is riveting from the first trade of one-liners to the final explosion. LOCK UP also introduced a young Tom Sizemore on the big screen (Saving Private Ryan, "Twin Peaks") in his first movie role.
LOCK UP will be available as a Limited 4K UHD Blu-ray, Blu-ray, DVD and digital from September 23, with a brand-new cover inspired by the theatrical artwork from 1989 for maximum cult appeal.
A limited 4K UHD Blu-ray Steelbook edition will also be available, exclusive to Zavvi.com
The film:
"This is hell and I'm going to give you a guided tour!"
With these chilling words, the warden (Donald Sutherland) welcomes Frank Leone (Sylvester Stallone) to Gateway Prison, a nightmare jail where every minute is hard time. The warden wants vengeance for the past; Leone wants only to survive the present. Their explosive battle of wills is the electrifying heart of one of Stallone's most heroic thrillers, LOCK UP. Stallone gives a monumental performance as Leone, a convict driven to break his own cherished code by a warden who will stop at nothing to get him. Sutherland portrays the sadistic prison head in this riveting white-knuckle ride to hell and back.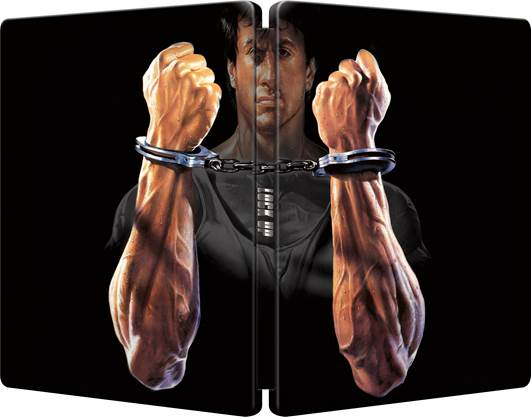 The format:
For the very first time, LOCK UP will be available in 4K Ultra HD including Dolby Vision® HDR, a stunning format offering four times the resolution of full HD to bring entertainment to life through ultra-vivid picture quality. When compared to a standard picture, Dolby Vision can deliver spectacular colors never before seen on a screen, highlights that are up to 40 times brighter, and blacks that are 10 times darker.
SPECIAL FEATURES:
ALL EDITIONS INCLUDE:
Making Of
Sylvester Stallone Profile
Trailer
Behind the Scenes
Interviews

Sylvester Stallone
Donald Sutherland
Sonny Landham
John Amos
To top off this feast of 80s action, STUDIOCANAL will release two other cult film this autumn – look out for more detail on RED HEAT and UNIVERSAL SOLDIER soon.
About the Restoration:
Studiocanal initiated this frame-by-frame restoration from the original negative of the film, collaborating with Technicolor Burbank to create the 4K scan and working in two grading rooms to ensure the best image contrast and colours both for theatrical and for Dolby Vision HDR. The brand new 5.1 mix brings considerable improvement to the original sound, whilst staying true to the spirit of the original mix, resulting in a whole new experience for audiences to rediscover Lock Up with the greatest technologies of our time.