Explosive
Summary
Streets of Fire may be a product of the 80's but I still love every moment with Willem Dafoe at his villainous best and Michael Paré making for a likeable and cool lead. The music is awesome and really gives the film a surge of energy and a uniqueness all of its own.
Plot: Raven Shaddock (Willem Dafoe), along with his gang of merciless biker friends, kidnaps rock singer Ellen Aim (Diane Lane). Ellen's former lover, soldier-for-hire Tom Cody (Michael Paré), happens to be passing through town on a visit. In an attempt to save his star act, Ellen's manager, Billy Fish (Rick Moranis), hires Tom to rescue Ellen. Billy and Tom, along with former soldier McCoy (Amy Madigan), battle through dangerous cityscapes, determined to get Ellen back.
Review: I got the Blu-ray of Streets of Fire for Christmas, so I just sat down to watch it and it had been a few years since I last checked it out. Described as a "Rock and Roll Fable" Streets of Fire is set in another time and another place but still manages to feel very much a product of the 80's. That's no bad thing however, as this movie really is 90 minutes of pure joy.
Directed by the great Walter Hill, Streets of Fire still feels like a unique picture and was unlike anything I had seen before; considering it's from way back in 1984 it still holds up as a well paced action movie with a twist.
With music produced by Jim Steinman (Bat Out of Hell) every song sounds like it could be sung by Meatloaf or Bonnie Tyler and gives the film its energy. We also have Hill favourite Ry Cooder provide the score which is filled with his usual twanging guitar coolness. The neon lights are immediately hypnotic, and the sheer visual style of this movie is what I love about it so much.
If you stand back and look at it there really isn't much to it and the story itself really only takes about an hour of the runtime with the rest of it being an extended music video.
Michael Paré who plays our hero Tom Cody had the charisma and screen presence to be immediately appealing as a character. He gets several fight scenes and I particularly enjoy within the first few minutes of him being on screen he has a punch up in a diner run by his sister. He left town a few years ago after his singer girlfriend Ellen Aim (Diane Lane) started to get successful but Tom comes back to town when he hears that she has been kidnapped by a biker gang led by Raven Shaddock (Willem Dafoe). Tom teams up with her manager (and current boyfriend) Billy Fish (Rick Moranis) and an ex-soldier called McCoy (Amy Madigan) to find Ellen and bring her home.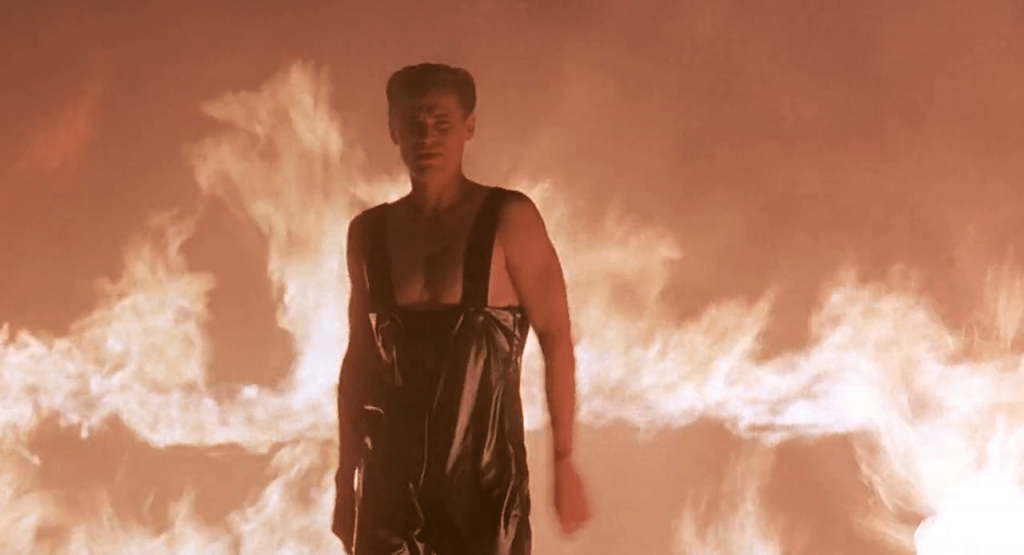 As always I think it's Willem Dafoe who steals the show here as Raven; he doesn't do all that much other than look like a demented 50's greaser but he brings his usual menace to the role. I can't picture anyone other than Amy Madigan as McCoy who is believably tough but with a good heart.
Streets of Fire wasn't a huge box office hit when it was released (making $8 million on a $14 million budget) and I think it was maybe too experimental for a mass audience but over the years it has received a cult following so it was nice to pick up the remastered Blu-ray from Shout Factory. The picture quality is still a little grainy at times, but the audio is flawless.
In terms of action we get several fight scenes and explosions and the final showdown between Cody and Raven is satisfying.
The special features include a feature length documentary called The Shotguns and Six Strings which alone makes this worth buying giving us a look behind the scenes of this 80's gem featuring interviews with the cast and crew. We also get Rumble on the Lot which is another documentary showing the making of the picture. There are also music videos, trailers and a still gallery as well as a few vintage featurettes.
Overall, Streets of Fire may be an acquired taste but if like me you grew up in the 80's then you'll enjoy the wonderful escape, the exciting music and scene stealing villainy from Willem Dafoe. The Blu-ray from Shout Factory is nicely remastered (despite some grain) so if you want to try something a little different I recommend it.