After a career in pro-wrestling Stu Bennett has made a name for himself as a new action star with roles in movies like Eliminators where he faced off against Scott Adkins and I Am Vengeance where he battled Gary Daniels. This week sees the release of I Am Vengeance: Retaliation with him returning as John Gold this time battling against Vinnie Jones.
We got to chat with Stu earlier today about the film.
---
Your new movie I Am Vengeance: Retaliation is out this week in North America; what can fans expect compared with the first movie?
Yeah, this is slightly different to the first one; the first one came out in 2018 and had a good amount of success in accordance to its budget. As a result we got the second one commissioned quite quickly but we got a much bigger budget for it. So with the bigger budget comes bigger production, bigger cast and hopefully more action. This is different because John Gold which is the character I play is working with a team as opposed to being the solo guy so you get to see my character have more interactions with other people. It's more of an 80's style all-action sprint from start to finish. It's a very lean film in terms of runtime; I think it's about 83 minutes but there's really no breathing room at all so it's very much an ode to those 80's action classics with Stallone/Schwarzenegger that I personally grew up with as did the director Ross Boyask.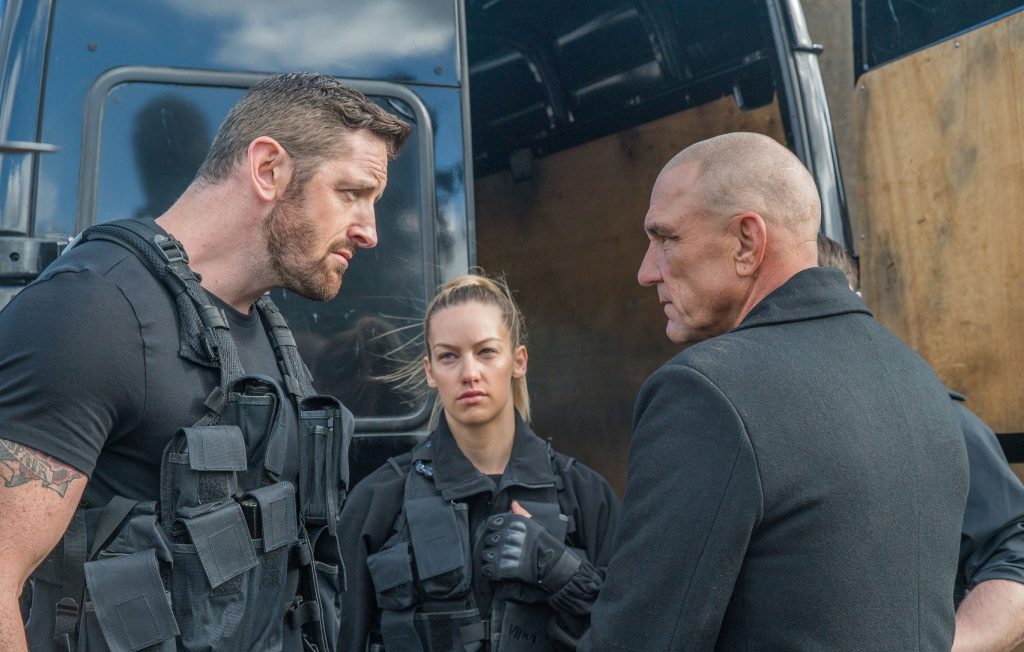 Absolutely and how did it feel to step into John Gold's shoes again?
I loved it! I'm very fortunate as a fairly new coming actor. This is my fifth film (I Am Vengeance: Retaliation) but to get the opportunity with the level I'm at in indie film to actually have the beginnings of a franchise and be able to take a character through an arc of growth going in different areas and developing a personality and a character more and more is a rare opportunity for any actor. We've seen it before in things like Harry Potter and Star Wars and all these Hollywood multi-billion-dollar franchises but to be able to do that at the level I'm at in my career is amazing. So I'm very fortunate to do that and it's exciting for me as a performer, an artist or an actor to actually develop that and grow through it too.
I love your "Right then" catchphrase; did you come up with that or was it in the script from the beginning?
That was a Ross Boyask creation; he came up with that in the first one and it was in the very first script which he handed to me in 2015 and it appeared 4 or 5 times. It's kind of a mantra that John Gold mutters to himself right before he's about to kick off. It's almost like it's a switch that he flicks in his head where he goes from a relatively normal human being into fight mode. So when he says "Right then" that's when you know things are about to kick off. It's absolutely a Ross Boyask creation.
How do you find working with Ross Boyask and how would you describe his directorial style?
I love working with Ross; like I say I met him in 2015 and this is our second movie together. We are completely different people from different backgrounds, but we clicked almost instantly. We have a very interesting & quirky relationship; we're very good friends constantly texting back and forth with each other and keeping up to date on things. I think creatively he's brilliant; he's got a fecund mind when it comes to these zany ideas. We both share a passion for 80's action cinema which is reflected in this film. I also like the fact that he has a very low level of ego; a lot of directors and writers are very specific about their vision and you have to stick to their vision no matter what. Whereas Ross understands that working with talent he needs to bring out the best in them and they need to be invested. I am also personally aware of what my strengths and weaknesses are so he's very happy to listen to my ideas about tweaks to the script or dialogue. Sometimes he accepts my ideas and sometimes he shuts them down and wants to stick with the original plan which is fine, but just having that sounding board and having somebody who is open to hearing my ideas and thoughts on stuff is very good for me as an actor and I think it leads to a better end product.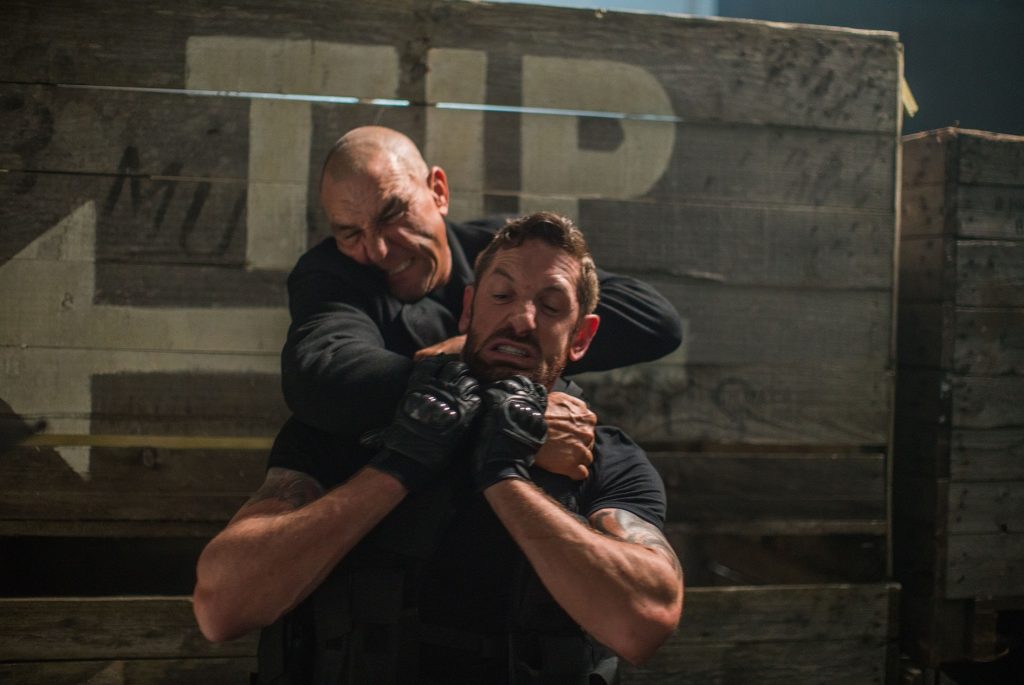 Retaliation has something like 19 fight scenes in it; from the two movies what has been the toughest fight scene to put together and what is your favourite?
Yeah there's been a lot; I think in the first movie I must have had 7 or 8 fights on my own but this one as you say we have more fight scenes, but we also have a bigger cast involved. I think I probably have less fight scenes in the second one but throughout the movie there's probably more fight scenes because of so many other people getting involved too. It's hard to pick one specifically that I'm proud of because of course the fights in this one with Vinnie are kind of the main event so to speak and working with Vinnie on that stuff was incredible. I'm actually going to pick a fight I had with Katrina Durden in this film. In my entire history of simulated combat in the professional wrestling world or indeed the acting world I've never actually had a fight with a female before. So I was very apprehensive about going in to fight with her because of the size differences and I didn't want to hurt her. I was also concerned with how it would look with me being 6ft 6 and 250 pounds fighting this female. But it turns out she was fantastic and she's got a completely different fighting style to me so we had to figure out how to blend them together. She's as tough as they come and when I watched our fight scene together I was really proud with what we achieved and she's going to go on to have a fantastic career, I have no doubt.
Yeah, I think she's going to be an action star in her own right at some point.
Agreed!
How challenging has it been to transition from wrestling to screen fighting?
Specifically the fighting stuff there were massive differences; the first screen fighting I ever did (and this was after having a thousand+ professional wrestling matches in my career) was in 2015 when I shot the film Eliminators. We did a rehearsal and the fight choreographer was Tim Man so we did a couple of those for a few days before shooting and I was working with Scott Adkins who is one of the best in the UK at the screen fighting stuff. I immediately at the very first try at the rehearsal was throwing punches and kicks at him and I was connecting so we had to shut it down immediately (laughs). I had no idea that in screen fighting for the most part you're not connecting; in pro-wrestling we're always connecting although we're not trying to kill each other it's very different so I had to learn quickly that you don't actually punch your opponent; with screen fighting on film we use camera trickery and angles and things like that. It's also very much more precise in the screen fighting world where everything is mapped out and choreographed exactly whereas in the professional wrestling world there are large elements of improv and just reacting to things in the ring, figuring out how you go along based on how the crowd is reacting. A lot to learn; it was a steep learning curve but I think by this point when we shot I Am Vengeance: Retaliation I'm pretty well versed in it now and I'm enjoying working with a whole different range of screen fighters and seeing what they bring and hopefully bringing my own flavour into it by virtue of the fact I'm so big and my background is completely different from theirs incorporating certain wrestling moves and things like that into fight scenes.
I was saying to Ross Boyask the other day that as there are two potential scripts I feel for a third movie it would be cool to see Gold and Teague team up to take down a greater foe- I'm thinking Scott Adkins so you can have an Eliminators rematch where you win. What do you think?
(laughs) Yes! I'd love to work with Scott again; it was a lot of fun working with him last time. He and I are obviously completely different in terms of our styles. He's very much the martial arts style which is very different from the kind of fight scenes that I'm used to doing. I'd love to work with him again; he's got a massive fanbase and he was a lot of fun to work with and I know he would push me to my limits too so yeah, that's a possibility. I think there's a lot of people we could potentially work with down the line; like you said Ross has like two scripts written in his head with different directions it could take. Hopefully people support I Am Vengeance: Retaliation so we get a good response and then the money people can take that to investors so fingers crossed we could get a 3rd/4th/5th so we're hoping to grow the franchise from here.
What's your training like for John Gold?
My natural state is to constantly be in the gym and working out; I've been basically lifting weights and keeping fit for over 20 years. It's not something I ever let slip so when it comes to roles like John Gold there isn't too much that I need to change because I'm permanently in maintenance mode at this point. There might be some stuff in the weeks coming up to shooting that I tighten up my diet lightly but to be honest with you I think it's actually a Scott Adkins line but "I stay ready so I don't have to get ready". I think that's very apt for a lot of actors in on screen action films because you never really know when that call is going to come in to your agent and suggest the role where they say "hey we need you to start this role in 3 weeks" which doesn't give you enough prep time to get in shape so you have to stay in shape.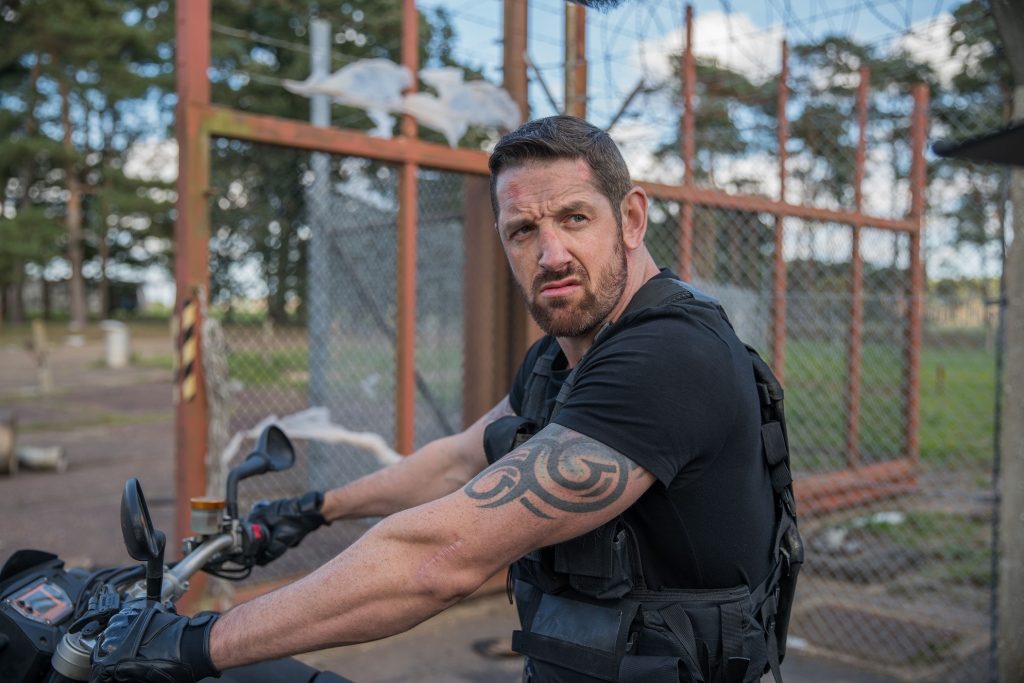 We Brits love our action movies; why do you think that is?
You know what? I took some photographs on set in 2018 while we were filming I Am Vengeance: Retaliation and it was various things like me holding a machine gun or riding a motorcycle in a kind of World War II prison area. The pictures all just looked very Steve McQueen and the old classic action heroes. I kept adding the hashtag #everyman'sdream and that's why I think we love that stuff as it is genuinely a fantasy for people to put themselves in the shoes of these epic heroes like Stallone or Schwarzenegger and see themselves as these masculine hero characters. I think that's a huge part of why we love it but in terms of the Brits I'm not really sure but it could be some fascination with the American style of movies we used to watch. We love it because it's crazy and wacky and never meant to be taken seriously. It's the kind of entertainment where you can just switch your brain off for an hour and a half then move on with your life. Especially with all the crazy politics and disruption that's going on in the world right now it's nice to check out for a little bit and just immerse yourself in this fantasy world and step into the shoes of the people in the film. Pro-wrestling is probably very much the same too; it's comic book, it's never meant to be taken seriously and it's just an opportunity to switch your brain off and have fun.
What do you want audiences to take from the movie?
The world has been a pretty horrible place for the last few months; obviously with the promotion of this movie and the release was meant to be theatrical it's just going to be digital. We've been affected as much as anyone, so I hope people go in with an open mind. It's not meant to be a political statement or a conversation on the state of our world. It's simply meant to be fun. So go check it out and if this takes your mind off the problems the world is having at the moment then fantastic. It's come at an opportune time to do that so just watch this film and consider it an hour and a half of vacation that you're going to enjoy and hopefully it'll get your adrenaline pumping.
Thanks so much and all the best with the film.
Thank you, Eoin and I really appreciate the support The Action Elite has given us; I loved your review of the film and interview with Ross so thanks so much for the support on your end.
I AM VENGEANCE: RETALIATION HIS NORTH AMERICAN VOD JUNE 19TH.