STUDIOCANAL have announced a new special edition of RAMBO: FIRST BLOOD (1982) in celebration of the 40th Anniversary of Ted Kotcheff's (WAKE IN FRIGHT, WEEKEND AT BERNIE'S) action classic which spawned a legendary character in Sylvester Stallone's (ROCKY, THE EXPENDABLES, TULSA KING) fighting machine, John J. Rambo, and kicked off one of the most iconic action-movies franchises of all time.
The brand-new SteelBook Edition will include a Blu-Ray and 4K Ultra HD™ disc and will roll-out across STUDIOCANAL's territories (UK, France, Germany, Australia & New Zealand) from November this year. The new release will feature a striking new artwork created by graphic designer and illustrator, Matt Ryan Tobin, as well as several new bonus features and an in-depth essay penned by david j. moore.
To further celebrate this landmark Anniversary, a 4K theatrical release is planned in the UK from June 24th 2022 via Park Circus. The film will screen in over 100 cinemas in the UK including Vue, Odeon, Showcase, and selected independent sites, allowing audiences to celebrate a cultural icon that has spanned generations.
RAMBO: FIRST BLOOD is based on David Morrell's novel and was co-written by Sylvester Stallone. Renowned composer, Jerry Goldsmith (ALIEN, POLTERGEIST, TOTAL RECALL), scored the film and will be the focus of one of the new bonus features.
When small town Washington sheriff Will Teasle (Brian Dennehy) detains a vagrant drifter for resisting arrest, little does he realise that he has set in motion a series of events that bring mayhem and bloody reckoning to his community. The shabby vagrant is in fact former Green Beret John Rambo (Sylvester Stallone), a hero of the Vietnam War who has returned home to find America no longer wants him. Responding to brutal treatment from Teasle's Deputies with sudden ferociousness, Rambo makes a daring escape from the town jail, steals a motorcycle and roars off towards the wilderness with the sheriffs not far behind.
© 1982 STUDIOCANAL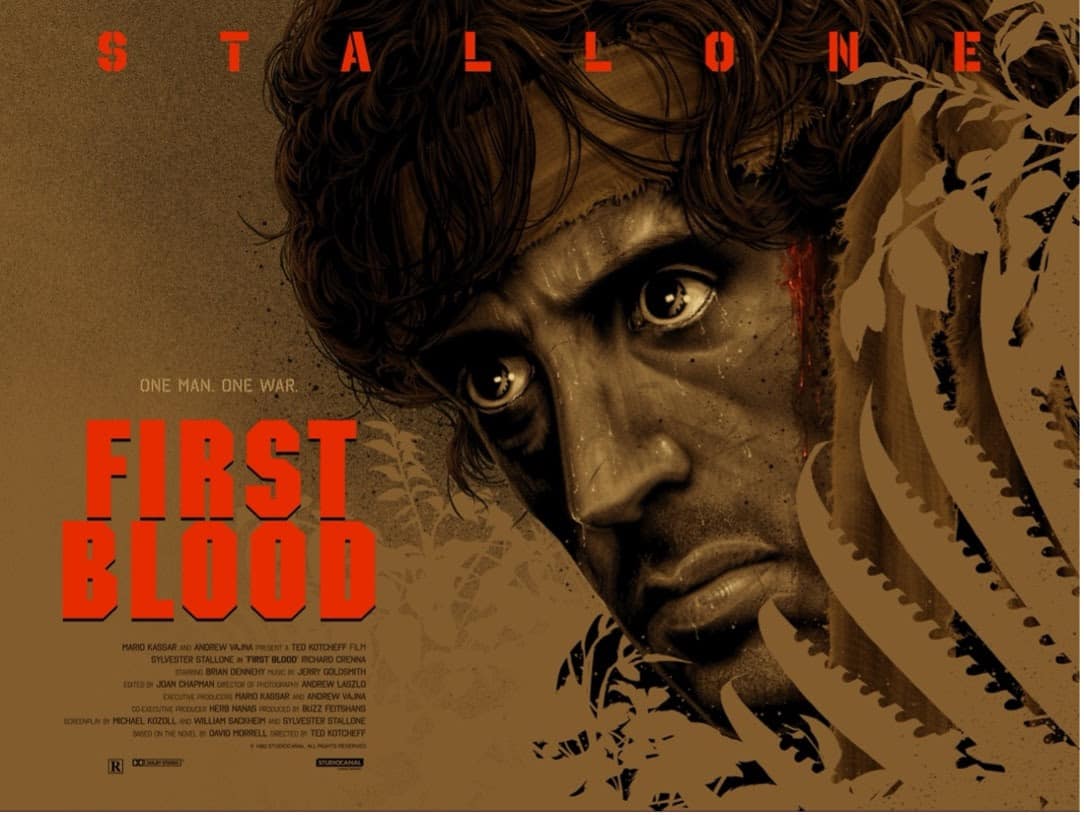 SPECIAL FEATURES available on the new SteelBook Edition:
A LONG ROAD: 40 YEARS OF FIRST BLOOD – A new retrospective about the making and influence of First Blood with director Ted Kotcheff, First Blood author David Morrell, RAMBO: FIRST BLOOD PART II editor Mark Goldblatt, RAMBO III director Peter MacDonald, RAMBO III screenwriter Sheldon Lettich, screenwriter/film historian C. Courtney Joyner, 80's action movie historian/author david j. moore, and more
THE HUNTER AND THE HUNTED: SCORING FIRST BLOOD – A new retrospective focusing on Jerry Goldsmith's highly influential score with soundtrack producer Robert Townson, film music historian Daniel Schweiger, and Goldsmith biographer Jeff Bond
Home Entertainment release dates:
FRANCE – STUDIOCANAL: 23rd November 2022
UK – STUDIOCANAL: November 2022
GERMANY – STUDIOCANAL: 24th November 2022
AUSTRALIA / NEW ZEALAND – STUDIOCANAL: TBC