The short films screened at the Toronto After Dark Film Festival are always unique and this year is no different; from homegrown talent to international filmmakers I thought I would go over a few of my favourite short films from the Festival.
PVP
Plot: A barkeep bears witness to an epic grudge match when two jukebox heroes duke it out at a mysterious fighting arcade game. As things intensify, the fighting moves off screen and into real life — and that's where things… start to get awesome."PvP" is a comedic action short from the mind of Sam KJ which blends surreal humor with precise martial arts, making for a thrilling joyride that is fun for the whole family.
I really loved this one as it's beautifully shot and incredibly stylish with some kick ass fight choreography; you can check it out below.
BONE MOTHER
Bone Mother teaser from See Creature on Vimeo.
Plot: A vain and arrogant youth dares to enter Baba Yaga's living house of bones. What emerges will forever fill our nights with terror.
This sadly isn't about John Wick but is a stop motion animated film which is essentially about the birth of one of horror's most iconic characters. The animation is beautiful and the voice work is perfect giving this a creepy atmosphere.
GLITTER'S WILD WOMEN
Plot: GLITTER'S WILD WOMEN follows Hannah and Sophie, two sisters living in solitude on their eighty acres of farmland. Set in stunning Prince Edward County, the sisters experience a supernatural life as they harvest and smoke glitter that grows in the forest, developing strength beyond their imagination. As they casually accept their new found abilities, the youngest sister, Sophie, gets increasingly infatuated with filming it all. Together, they come up with an idea to host a 'film festival' on their farmland and invite all of the residents from the closest town. However, people from the closest town seem reluctant to attend – for a very good reason.
I wasn't quite sure what to make of this one until the last few minutes but it was nicely shot and quietly freaky. The two girls were excellent and it was unlike anything I'd seen before so for that reason alone this is worth checking out.
TICK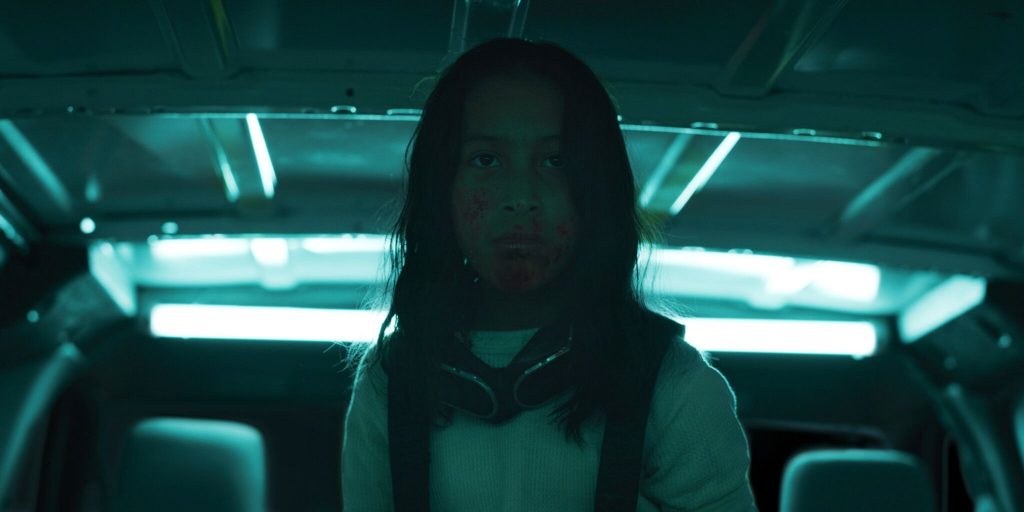 Plot: In a post-pandemic  society, a vampire in hiding is forced to make a stand when confronted with the oppressive  regime  who  kidnapped  and  enslaved  her  family.
This is arguably my favourite short film from the Festival as it has stunning production values and is a fresh new take on the otherwise tired vampire genre. I see director Ashlea Wessel having a great career.
SHIFT
Plot: Human resistance rises from the ashes of a scorched Earth to face the hardest battle of their lives.
This is a sci-fi actioner which is not short an ambition with some impressive visuals only let down by ropey CG in parts; it's still entertaining with some innovative ideas.
Those are some of my favourite short films from the Toronto After Dark Film Festival and so ends my coverage of the Fest. Thank you all for allowing me to be a part of it.