Are you a fan of watching movies & do you like to play casino games? Let's take a look at the best movies about Casinos that are worthy to watch.
————————————————————————————————————————————–
The Best Movies About Casinos
Gambling is one form of recreation and fun for many people. Playing with large amounts of money will cause people an indescribable thrill, and gambling movies have placed such a desire on people. Therefore, gambling movies are widely loved by audiences.
The following casino movies are great masterpieces made by the greatest directors. Let's take a look at the 3 most exciting casino movies.
Casino (1995)
"Casino" is a crime film directed by Martin Scorsese and starring Robert De Niro (as Sam "Ace" Rothstein), Sharon Stone (as Ginger McKenna), and Joe Pesci (as Nicky Santoro). It was released in the American on November 22, 1995.
Sam "Ace" Rothstein was promoted as the casino manager by the organisation behind the casino for his mastery of various gambling skills and casino operations. Sam was valued by the organisation as he doubled the casino's profits. Sam not only bribes various politicians to consolidate his position in Las Vegas, but also has a close relationship with Nicky, a member of the underworld. Thanks to his social connections with both government officials and their illegal counterparts, he is getting wealthy.
One day, Sam met the attractive woman, Ginger McKenna in the casino. They got married and had a daughter, but soon Sam found that Ginger often sent money to his former boyfriend on his back.
Nicky always broke the law, and at the same time Sam was in trouble as he offended the mayor. When the situation was a mess, Ginger brought Sam's daughter and escaped with her boyfriend.
The FBI overheard the secrets of the casino, the bosses are arrested and put on trial. For their own benefit, the organisation decided to get rid of all those involved. They killed Nicky, who was pursued by the police, and planted a bomb in Sam's car. But in the end, the fire protection device in the car saved Sam's life and he left the casino and started a new life.
Casino Royale (2006)
Casino Royale is a spy film directed by Martin Campbell. It is the 21st in the Eon Productions James Bond series, and the third screen adaptation of Ian Fleming's 1953 novel of the same name. The stars of the film include Daniel Craig (as James Bond), Eva Green (as Vesper Lynd), Mads Mikkelsen (as Le Chiffre), Judi Dench (as "M"), and Jeffrey Wright (as Felix Leiter).
The first mission of the British MI6 agent James Bond after earning the "007" status is to win the huge wealth in the hands of Russian spies in the casino, so that the terrorist organization behind it cannot be reached in conspiracy. However, the inexperienced Bond failed the mission, and Bond was ordered to stop the mission by MI6 chief "M".
But Bond continued to track down and learned that Dimitrios had close ties with Le Chiffre, who was the money launderer behind the world 's leading terrorist organization. To stop Le Chiffre, Bond went through various "trainings" in the casino and finally came to the Casino Royale.
"M" arranged Vesper Lynd, a British Treasury agent to protect the $10 million buy-in. In their mission cooperation, Bond and Vesper unwittingly possess trust and tacit understanding, and Vesper gradually changed his views on Bond.
As the "stakes" get higher, the game also reveals more and more conspiracy behind it. Behind the marathon gambling, there is hidden cunning deception and bloody violence. As the stakes increase, the struggle between the two parties gradually reaches a new climax.
Ocean's 11 (2001)
"Ocean's Eleven" is a remake of the 1960 Rat Pack film of the same name. It is an American heist film directed by Steven Soderbergh and starring George Clooney, Brad Pitt, Matt Damon and others.
After being released on parole from the New Jersey prison less than 24 hours, Danny Ocean has begun working on their next plan with his old partner, Robert "Rusty" Ryan. This time, his goal is to robe $150,000,000 from the casino owner Terry Benedict.
Danny recruits eight former colleagues and criminal specialists: pickpocket expert, explosives expert, a pair of gifted mechanics, professional casino dealer, electronics and surveillance expert, Chinese acrobat, and original owners of casino.
During the planning phase, the team discovers that Danny's ex-wife had an unusual relationship with Terry. As for the timing of the action, it was set on the night when Lennox Lewis and Wladimir Klitschko competed for the heavyweight championship. The night in Las Vegas was up and down because of the plan.
Experience the Thrill of Gambling in Online Casino Singapore
After reading articles about casino movies, do you want to experience the thrill of gambling?
Online casinos have become so popular among gamblers today and you can get free spins for registration.. The development of online casinos has brought more types of games to online gambling. Here you will have the opportunity to find an online casino suitable for your online gambling.
The Best Online Casino in Singapore We Recommend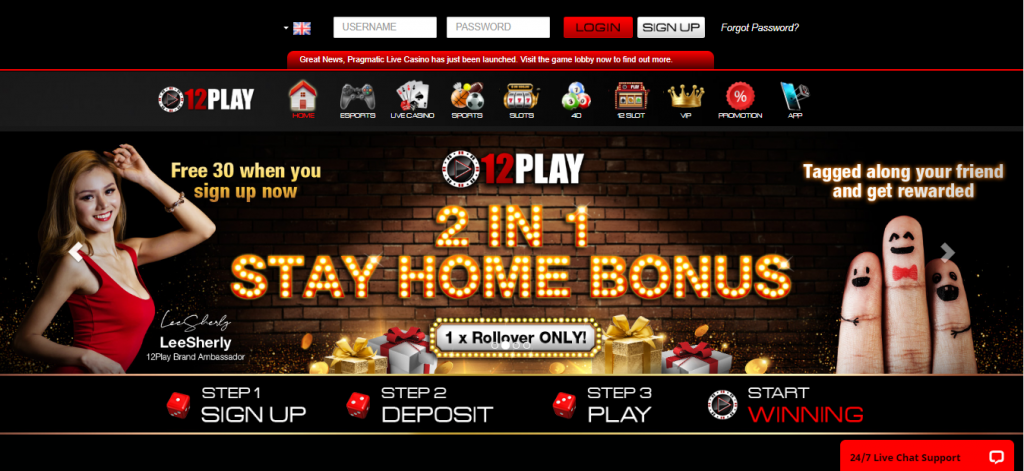 12Play is the best online casino in Singapore and Malaysia. Since 12Play provides the best service and interesting online casino games, they have become one of the fastest growing online casinos in the Singapore online gambling industry.
If you like to get casino bonuses and promotions that benefit you, 12Play is perfect for you. 12Play always provides a wide selection of casino bonuses such as welcome bonus, daily bonus, referral bonus to their players.
Besides, 12Play focuses on providing the highest-quality online casino experience for players. 12Play collaborates with trusted game providers such as Playtech, Evolution Gaming, Spadegaming, Pragmatic Play, Ezugi, and others to provide players with safe and fair casino games. Their online casino games cover live casino, online slot games, sports betting, esports betting, fishing game, 4D lottery and some exclusive games.
12Play started new operations through mobile websites and mobile apps as players in this era tend to use mobile channels for any activities. Their mobile app is tailored to Android users based on their interests, location, and usage behaviour. With mobile app, your online gambling experience will be more exciting and fun.
Furthermore, 12Play offers members a variety of payment methods that are very convenient. Or, if player wants to request another way to deposit or withdraw money, you can contact 12Play customer service at any time. Here are details on how to contact 12Play customer service:
Email: support@12play.com
Skype ID: asia12play
WeChat ID: ASIA12PLAY_02 (Singapore); ASIA12PLAY_01 (Malaysia)
Telegram: https://bit.ly/12stelegram