Classic
Summary
The Crow is one of my favourite music scores of all time and its style has never really been copied or bettered; it's achingly sad and is to this day remains incredibly moving.  This deluxe edition gives us even more stunning music to disappear into so if you love the movie as much as me then pick this up ASAP.
Review: To this day The Crow is my favourite comic adaptation and no sequel, TV show or potential remake will ever live up to it. I think it's because of the tragedy that surrounds the film as the lead Brandon Lee was killed in an on set accident so it adds to the sadness of the tale.
Graeme Revell is a rather under appreciated composer and he deserves more accolades (he provides the music for Hard Target after all); The Crow remains his masterpiece and personally I consider it one of the greatest music scores of all time.
Few film scores can make me tear up just listening to it (even without the visuals of the movie) but there is something about The Crow that has an ethereal quality with its haunting vocals and choral moments. The use of world music including chants just adds to the supernatural atmosphere. I wouldn't even consider this an action movie score even though The Crow has plenty of action; this is more Gothic romance and horror just giving every scene more gravitas. The main theme is beautifully sad and it's the score which really adds extra heart to the movie.
Tracks like Return to Grave, Birth of the Legend and Pain and Retribution are particular highlights but Devil's Night features that epic guitar solo we hear in the film which is just as stunning now as it was back in 1994.
A new Deluxe Edition of The Crow music score has just been released containing more tracks including an alternate version of It Can't Rain All the Time from the end credits. I prefer the one they ended up using as it had more emotional heft but it's always interesting to hear different versions of familiar songs/themes.
There is an extra 30 minutes of music compared to the original release so if like me you love this movie then this is a must have.
Overall, if you love The Crow and its haunting music score then this Deluxe Edition is essential for the collection and is the perfect cure for a good mood.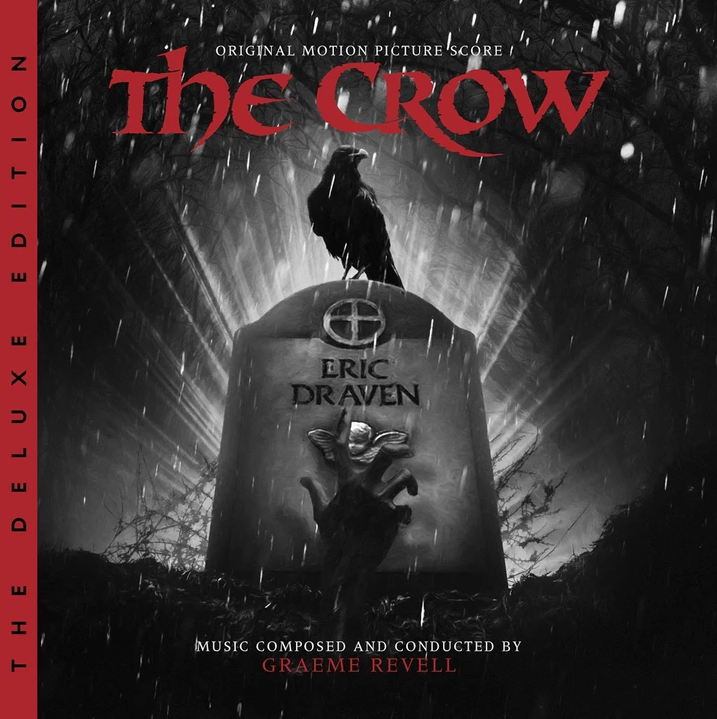 Track Listing:
Disc 1
1. Birth Of The Legend (6:17)
2. Forever (1:29)
3. Absolution Accepted (2:26)
4. Despair (1:37)
5. Resurrection (2:09)
6. Never Ever Fear (3:43)
7. Inertia (1:48)
8. Pain And The Shadows (0:41)
9. The Crow Descends (2:31)
10. A Cold October Night (1:08)
11. Remembrance (2:54)
12. Rain Forever (2:32)
13. Shattered In The Head (0:44)
14. Her Eyes…So Innocent (2:45)
15. Tracking The Prey (3:35)
16. Elegy (0:32)
17. The Tides Of Sin (2:07)
18. Pain And Retribution (2:34)
19. Angels All Fire (1:16)
20. Believe In Angels (3:32)
Disc 2
1. Respect To The Living (3:25)
2. Truth To The Dead (0:55)
3. Killing Time (1:24)
4. A Vision From Hell (1:52)
5. Captive Child (2:32)
6. Devil's Night (2:30)
7. Innocent Lovers (2:13)
8. On Hallowed Ground (2:42)
9. Twisted Wreckage (3:13)
10. Inferno (5:03)
11. Eyes Like Candy (3:25)
12. Irony (1:14)
13. Legacy Of Brutality (1:49)
14. Watching You Forever… (2:27)
15. Angel From Hell (4:04)
16. Praying For Rain (0:47)
17. Return To Grave (3:45)
18. Last Rites (3:54)
19. Destroy Myself (1:45)
20. End Titles: It Can't Rain All The Time – Performed by Jane Siberry (4:04)