High-Octane
Summary
The Tiger Claws trilogy has lots to enjoy with Cynthia Rothrock, Jalal Merhi, Bolo Yeung and Loren Avedon giving us plenty of action as well as crazy storylines to be well worth watching. The third movie is a let down due to the lack of Cynthia but as she was pregnant then there isn't much we can do about that. Vinegar Syndrome have done a fantastic job at remastering the films and there are enough special features to make this worth a purchase for any action fan.
I wrote this back in 2019 but I thought after recently picking up the new Blu-ray box set from Vinegar Syndrome I would update it.
The Tiger Claws Trilogy stars Cynthia Rothrock and Jalal Mehri as two cops on the trail of a serial killer who is murdering people using the rare Tiger fighting style. The first two movies have Bolo Yeung as the murderous Chong whereas the third movie has the King of the Kickboxers himself Loren Avedon. Let's take a look at the new Blu-ray and see if it's worth picking up.
TIGER CLAWS (1992)
Plot: When the bodies of local martial arts masters keep turning up with mysterious claw marks in their skin, NYPD detective and martial arts enthusiast, Tarek Richards (Jalal Merhi) is put on the case. Tasked with trying to stop these killings, Richards is teamed up with a new partner, the no-nonsense Linda Masterson (Cynthia Rothrock) who is quite capable of defending herself in a fight. Together, they must track down this mysterious serial killer and uncover the secret behind an ancient martial arts technique known as "Tiger Claws."
Tiger Claws stars Cynthia Rothrock and Jalal Mehri as two cops chasing a vicious serial killer played by Bolo Yeung; he is going around New York murdering martial arts masters using the Tiger style and no one but Tarek (Merhi) and Masterson (Rothrock) can stop him.
Tarek goes undercover in a martial arts school to find out who the killer is while Masterson sits in the car waiting for him for the most part. Jalal Merhi is definitely the lead in these movies but it's Cynthia who eats up the screen proving she is the Queen of martial arts. They make for a likeable duo and they trade some banter in between beating up the bad guys all while searching for the killer.
Tiger Claws is perfectly paced and has near constant action with fights every few minutes; it's nice to see real martial artists in the fight scenes so the camera pulls back and lets us see them in action.
Upon watching this recently I noticed how well edited it is with some scenes being shot in Toronto as well as New York but it's so seamless you can hardly tell (unless you live in Toronto like me).
Bolo Yeung is perfectly cast as Chong who rarely speaks and doesn't have to; his imposing figure would terrify any opponent and Chong really is quite unhinged. We never really find out in this movie why he kills the masters, he's just a villain and that works just fine.
Some of the acting is a bit dodgy in places but with a movie like this it doesn't matter; I still found myself rooting for the two leads and I found the story surprisingly compelling. As I've said before there was something about these 90's straight to video pictures that were like a warm hug; it's just familiar and an entertaining escape from reality.
The music was a little Terminator-esque in places and although dated sounding now it works perfectly for the movie.
Overall, Tiger Claws is a fun martial arts movie with plenty of fight scenes and an engaging story; Rothrock and Mehri are fun to watch on screen and you can never go wrong with Bolo on villain duties making this worth checking out.
TIGER CLAWS 2 (1996)
Plot: Now a detective in San Francisco, Linda Masterson is surprised to discover a new victim with the "Tiger Claws" markings on his body. After contacting her old partner in NYC, Tarek Richards, Masterson soon learns that the killer they put away has escaped and more bodies have been turning up with similar markings. Richards and Masterson must team up again to stop these killings, but soon find themselves as part of an ancient underground martial arts tournament with mystical roots.
Following on from the events of the first Tiger Claws this sequel is just as entertaining while not being a simple rehash of the original.
Bolo Yeung was an all-out psychopath in the first movie however, in this he's almost more of a good guy as he has a code of honour and it's a redemption tale of sorts. He's manipulated by his brother into entering a fighting tournament to avenge his master but things aren't quite what they seem.
Richards and Linda Masterson trace Chong to a tournament in San Francisco and end up fighting for their lives. Sadly, Cynthia has far less to do in this movie and doesn't get any action until around the 50 minute mark which is a travesty as she feels wasted.
Like the other entries some of the dialogue and acting aren't exactly amazing but there are plenty of fight scenes and it's very well-paced.
Initially I disliked bringing in the fantasy element with the magical portal as the first movie didn't have any of these elements so it feels very different. I made my peace with that though and I've come to like the idea as going back in time to help your ancestors is a noble cause; watching Chong go from crazed killer to honourable student who wants to save his master makes for enjoyable viewing too.
Once again Rothrock and Mehri make for an appealing team and we also get a supporting cast featuring the likes of Harry Mok and the great Evan Lurie who plays arrogant villain Victor. He has several entertaining fight scenes and the tournament battles are maybe my favourite of the franchise. It's definitely about time we had a new fighting tournament movie…
One thing which bothers me about this entry is the fact that Chong gets away at the end to live in the past and Tarek says "Let him go; he's paid his dues"… Eh no he hasn't. He murdered several people so paying his dues should be a few decades behind bars.
Overall, Tiger Claws 2 loses points for wasting Cynthia Rothrock for the first half and the sillier fantasy elements may take some out of it but it's redeemed by first rate fight scenes and a fast pace with Rothrock and  Mehri once again proving a great duo.
Tiger Claws III 
(2000)
Plot: When the spirits of three ancient martial arts masters are resurrected by a criminal named Stryker, it's up to detectives Tarek Richards and Linda Masterson to stop them. But, when Masterson is quickly put out of commission, Richards must team up with Stryker's former teacher, Master Jin (Carter Wong). Under the tutelage of Master Jin, Richards must unlock a secret ability that lives inside of him if he wants to defeat Stryker and his crew of mystical assassins.
Now we come to the third and final entry in the series and this movie truly embraces the more fantastical elements that the second movie introduced with our three new villains known as the 3 Masters of Shanghai looking like they came straight out of Richard Donner's Superman films.
Bolo Yeung doesn't return (aside from one brief flashback scene) but this time our main antagonist is played by none other than Loren Avedon who steals the entire show. He brings a lot of humour to proceedings and is clearly enjoying every moment but is also suitably hateful.
A young Russell Peters shows up as a cop and he provides a few choice one liners while looking like he's trying not to laugh.
I go into some spoilers ahead so if you haven't seen this movie then best stop reading now.
This one goes in some surprising directions; for one thing they kill off Cynthia Rothrock after 10 minutes which I didn't see coming… or did they? I recently found out that the reason her role is so small is that she was pregnant at the time so she couldn't do many fight scenes. I wonder how different the film would have been if she had a bigger part to play…
The story basically involves Tarek (Merhi) training to learn the Black Tiger style in order to defeat the 2000 year old villains so it feels like a mixture of Big Trouble in Little China meets Mortal Kombat.
My main problem with this movie is after getting invested in the story and watching Tarek take on the villains in several awesome showdowns… he wakes up. Yes, it was all a dream or a vision of what may come to pass to be more precise but it was a total copout and to this day pisses me off as an ending.
The final fights deliver exactly what we would want in terms of action although the fact that Cynthia has taken a back seat in this entry is a big let down. Carter Wong is a welcome addition and his final battle with Loren Avedon is a highlight.
Overall, Tiger Claws III is my least favourite of the trilogy due to the lack of Cynthia Rothrock but we do get Loren Avedon shining as an over the top villain and some decent fight scenes making this an enjoyable if somewhat frustrating climax to the trilogy.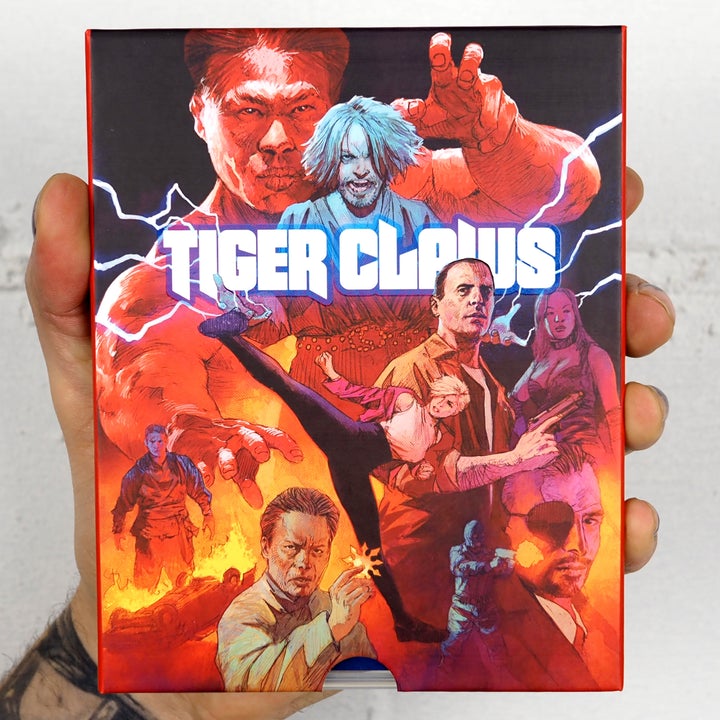 Special Features:
• Region Free 2-disc Blu-ray Set
• Newly scanned & restored in 4K from their 35mm original camera negatives
• Brand new commentary track with producer/actor Jalal Merhi for all three films
• "Sharpening the Claws" – a making-of documentary on Tiger Claws with actress Cynthia Rothrock and Jalal Merhi
• "Martial Art Porn" – a making-of documentary on Tiger Claws II with Cynthia Rothrock and Jalal Merhi
• "Mystical Claws" – a making-of documentary on Tiger Claws III with Cynthia Rothrock and Jalal Merhi
• Original video trailers for all three films
• Double-sided poster
• Limited edition of 5,000
• Reversible cover artwork
• English SDH subtitles
---
All three films have never looked or sounded better having been lovingly remastered in 4K and the addition of subtitles is a welcome addition for those hard of hearing like myself. The audio commentaries from Jalal Merhi give us some nice insight into the making of the films but we also get several "Making Of" documentaries featuring interviews with Rothrock and Merhi. I love that Vinegar Syndrome has worked hard at bringing some beloved straight to video movies from the 90's to Blu-ray where they would otherwise eventually be forgotten.
The first Tiger Claws remains the best of the trilogy but the other two have plenty to enjoy so you love your 90's action like I do then best pick this up while you still can from the Vinegar Syndrome website.