Ada Dumitru was a child actor in Romania who has thus far been cast in more than 30 theatre productions and performed more than 1000 shows in total. She toured with her shows internationally in festivals  in places like Canada, UK, France, Bruxelles, Macedonia, Ukraine and Sarajevo.
She will soon be moving to the US  and has been working on projects "The Pact", "Enclave" and the TV series "Three Knee Deep".
In Three Knee Deep Ada was the lead villain, playing a psychopathic serial killer alongside Louis Mandylor (My Big Fat Greek Wedding) and James Marshall (Twin Peaks).
In an interview with Dan's Movie Report Ada discussed the project stating: "Three Knee Deep is the most insane project I've ever worked on. I had previously done some film work, like short movies, some local TV series, commercials, and music videos. But this character in "Three Knee Deep" was my first big commitment in the film industry. It was an important part, and a tough one and it was the first time I was acting in English.
I got on this crazy journey through the director and producer Bobby Barbacioru. He has an amazing team of filmmakers around him, and he's the one that believed in me, and gave me freedom to be insanely creative while doing this part. A lot of people believed I was too young for such a complicated character, but Bobby made a bet on me. And he won."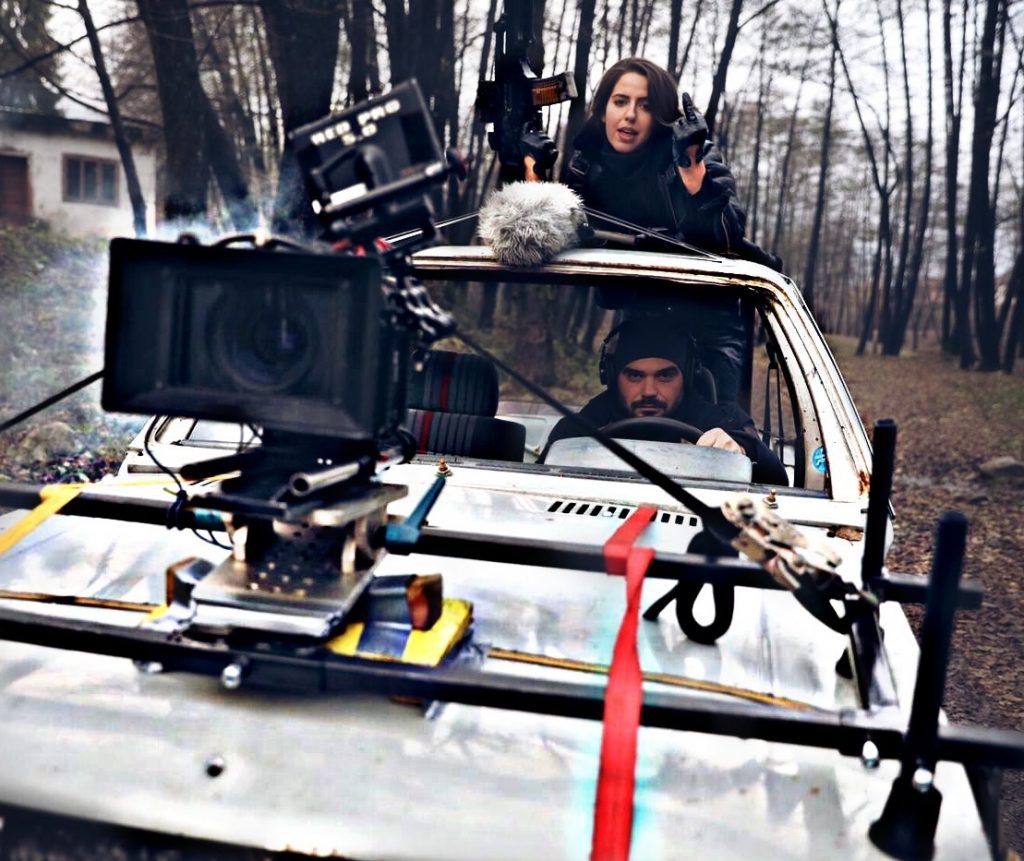 Discussing her character Bluebell she says "Bluebell … I get so emotional when I talk about her, because we've been through a lot together. She's a psychopath, a serial killer, a maniac. She is one of the most dangerous serial killers, and because of her intelligence, they had to lock her in a cage.
The part was not easy to handle, but I love playing villains. In a weird way, it's my specialty. At the beginning, I started with a simple idea in which I strongly believe: every single human being is good. Every single human being is emotionally deep inside, and if only their pure heart would be asked, they would choose the bright side. But life gets you in a carousel where many things occur in the development of that pure soul. Society, family, education, bad circumstances. All of these can drive you far from that pure, untouched entity you represented when you were born. Those bad circumstances can drive you so far and so fast that you get completely lost, never to be found again.
Bluebell is a very young girl who's completely lost. But the beauty comes from the struggle between her love of being lost, and her need to be found. Living paradoxes. Life's a paradox. The most important rule when you play villains is that people have to like you, you have to be their guilty pleasure. Yes, Bluebell kills man without a second thought, and she has a sick sexual energy. She chose the dark side of life. But she can get emotional, and she can be your friend. She's still ultimately going to kill you, but on the way, you're charmed. So at least you die charmed."
Ada was also an antagonist in The Pact where she got to work with international actors like Robert Knepper (T Bag from Prison Break), Rick Ravanello, Natassia Malthe and Eyad Hourani. More details on the project will be coming soon.
Over the past year Ada has been shooting another feature film called "Enclave" in Greece, Thasos island directed by Bobby Barbacioru and having as a co-star Prison Break's Robert Knepper. country.)
Keep an eye out over the coming months for Ad's upcoming projects.
Instagram: https://www.instagram.com/adadumitruu/
IMDB: https://www.imdb.com/name/nm9360714/
https://www.imdb.com/name/nm9360714/