High-Octane
Summary
Violent City isn't top tier Bronson but it certainly has its moments with an impressive car chase to open the film. The pacing drags at times, so I'd recommend the cut called The Family which is the shorter US version. 88 Films have done a great job remastering the film so if you're a fan of this film then this is well worth picking up.
Plot: With legends Charles Bronson (Death Wish, Once Upon a Time in the West) and Telly Savalas (Horror Express, Lisa and the Devil) on board, director Sergio Sollima (Devil in the Brian, Revolver) is able to serve up a full-tilt poliziottesco feature rammed twists and turns, tension and balls to the wall action packed sequences.
After being betrayed by his girlfriend Vanessa, hit-man Jeff Heston (Bronson) is shot and left for dead by Coogan, his one-time business associate. But after serving time in prison on a trumped-up charge, Heston pursues his mistress and would-be killer to New Orleans in search of revenge.
Review: I hadn't watched Violent City for several years but I picked up the 88 Films Blu-ray of it when I was back in the UK a few months back.
It was never one of my favourite Charles Bronson movies but it's still entertaining and no one plays the stoic badass better than him. There is even a scene in prison where he allows a tarantula to crawl over him simply to show that he is tough as nails.
It starts off with a barnstorming car chase which is only let down by some noticeable blue-screen, but there were still some impressive stunts. Aside from that, in terms of action, we get several shoot-outs throughout and some explosions to keep things moving.
There are multiple versions of the film in this set and I had never seen the version Città Violenta. This avoids dubbing and has the voices randomly switch to Italian throughout which is a little jarring but I prefer it to bad voiceovers.
Bronson's protagonist Jeff is a hitman who is asked by Telly Savalas' gangster Weber to work for him but he prefers to work alone. Jeff himself isn't really an appealing character in any way; not only is he a killer but at one point he attempts to rape Vanessa (Bronson's real life wife Jill Ireland) so it's hard to root for him. I was more enamoured with Telly Savalas as Weber who only has a relatively small role but every moment is gold. A standout scene is when a reporter wants to tell the story of Vanessa but Weber doesn't want anything mentioned. He simply smiles at the reporter's boss and says "you don't have a job anymore, does he?" The boss shifts awkwardly and then reluctantly agrees to fire the reporter. It's a brilliant scene demonstrating Weber's power which he holds over anyone he meets, making him quietly terrifying.
The pacing definitely drags at times with several scenes going on longer than they need to but I find myself enjoying it all as it's just creating the atmosphere. There are twists and turns as well, so we are never quite sure how this story is going to end, but it finishes the only way it could.
88 Films have done a fantastic job of remastering the film with vibrant colours and decent audio. The subtitles don't always match what is being said on screen which is odd, but they are close enough.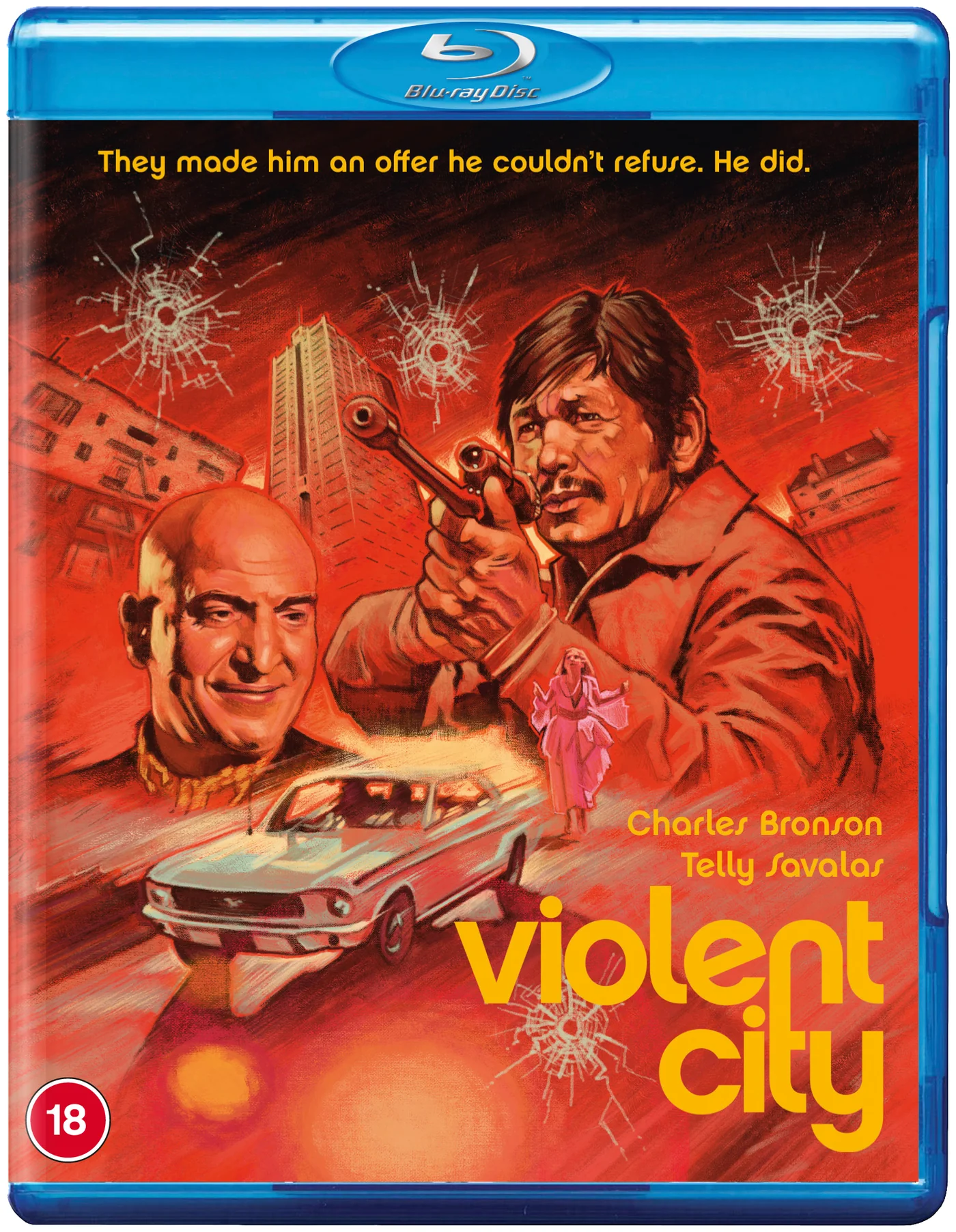 Special features include:
Disc One
New 4K Remastered Transfer of Città Violenta
Alternate 2K Remastered Transfer of Violent City
2.0 English DTS-HD MA Mono (With some sections in Italian with English subtitles as these scenes were never dubbed into English)
2.0 Italian DTS-HS MA Mono with Newly Translated English Subtitles
Audio Commentary by Charles Bronson Expert, Paul Talbot
Disc Two
'The Family' (Shorter US Version of the Film Sourced from a rare archive 35mm Print) with optional English SDH
Shooting Violent City – An Interview with Director Sergio Sollima
Violent Sollima – An Interview with Italian Cinema Expert Eugenio Ercolani
An Important Friendship – An Interview with Pierpaolo De Sanctis
"The Controversies of VIOLENT CITY" by EUROCRIME! director Mike Malloy
Original Trailer
'The Family' Trailer
'The Family' TV Spots
There are enough special features to keep you engaged for several hours with a highlight being "The Controversies of VIOLENT CITY".
Overall, Violent City isn't one of my favourite Bronson films mostly due to pacing issues and the fact his character isn't especially appealing; however, his charisma keeps you interested and there are some great action scenes. Telly Savalas steals every moment he is in although I wish he had a bigger role. 88 Films have done an amazing job remastering the film giving us multiple versions; I would maybe say I prefer the US cut known as The Family as it's a little shorter, so it flows better.