If there's one genre of movie that gets people into the cinemas, it's a heist film. We've been treated to several heist classics since the genre began with 1960's heist musical starring the Rat Pack, the original Ocean's 11. The heist formula is simple and is easy for audiences to understand what they are getting themselves into when they come to see it. 2018 alone gave us Ocean's 8 – the female-led successor to the Clooney Ocean's films – and Widows, while 2019 is changing tack and giving us a comedy heist with The Hustle. Meanwhile, we are promised another instalment in the never-ending Fast and Furious series. One thing that is almost as much of a given as a complex plot, a need for a ragtag bunch of heroes, and everything going wrong in the final stages, is the setting. And almost all good heists have taken place in a casino. Forget Ocean's 11 – what about legs 11? Given how we have changed the formula so much and given how popular bingo has grown, could we have a heist film set in a bingo hall?
Caption: Ocean's 8 helped redefine the heist movie by robbing the Met Gala instead of a casino.
Bingo on the Rise
The bingo hall is a staple of the community, whether it's a huge purpose-built structure or a repurposing of a village hall or community centre. Dating back to the 1500s and based on the Italian lottery, Il Gioco del Lotto d'Italia, bingo remains popular due to it being simple enough to grasp, while also offering a tense experience for those playing. You can be as involved and invested in a bingo game as you want – some people even bring their own dabbers to the hall and others demand total silence when the numbers are being called. At the other end of the spectrum, Bongo's Bingo shows that a younger audience can be attracted to the game when it involves silly forfeits, dancing, and a nightclub environment. But, as with almost everything, the digital world has begun to eclipse our physical one. Bingo has certainly taken off online in recent years, with sites offering competitive bingo packages including welcome bonuses and free cash for playing. The online phenomenon has also spread to mobile, meaning people can play bingo on the move. This has helped new generations and different audiences fall in love with the game and become primary players. The different varieties of bingo online mean that while physical bingo is relegated to what can be produced by the bingo hall, the caller, and the sheets or tablets, the digital version can incorporate many themes and take inspiration from the latest in online gaming. So, given how bingo's popularity rivals that of the casino indeed, online bingo rivals that of other online casino games, why haven't we had representation of a bingo hall in a heist movie?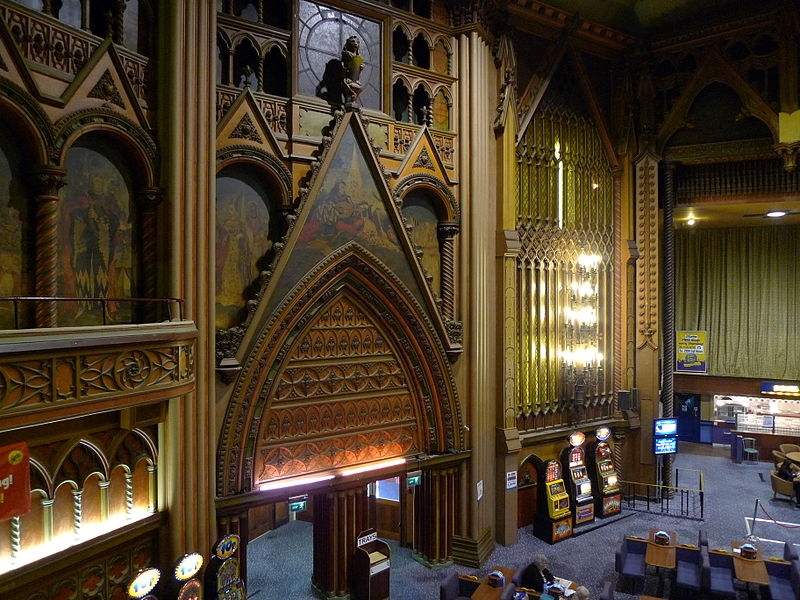 Source: Interior of the Tooting Granada Bingo Club, formerly the Granada Cinema, in Tooting, London  by Chuunen Baka via Wikimedia (CC BY-SA 3.0)
Caption: The Tooting Granada in London could be glamorous enough for a heist movie.
Not All Heists Have Been Casinos
The original heist movie was set in a casino for many reasons – not least because it provided a large amount of wealth in one place and allowed the cast to dress to the nines – and it was seen as a glamorous location. But, as we've reinvented the heist movie, starting arguably with 1969's The Italian Job (and its sequel) in which the 'casino' of the movie was a set of Mini Coopers. James Bond regularly commits heists throughout his films, often to rescue someone or some plot device from the clutches of the villain. These have been conducted on a nuclear submarine (1999), in a villain's island fun house (1974), in a secret lair below a graveyard (1973), on a clifftop monastery (1981), and even in outer space (1979). Being able to move away from the casino for a heist shows range and gives audiences something different to watch. Even the remaster of Ocean's 8 didn't feature a casino, but the famous Met Gala. Comedy caper The Spy Who Dumped Me (2018) set the final heist in a museum complete with trapeze artists and other circus skills, while Reece Witherspoon's Hot Pursuit (2015) ended at a family party in a local club.  The TV series Hustle (2004-12) featured many heists through its long run, including one at an auction – not Sotheby's, but a local auction, which may not have been as glamorous, but still kept us on the edge of our seats. Perhaps the incongruous location of what we imagine a bingo hall to be could add even more tension, as it's somewhere we could imagine going. The Hatton Garden Heist (2019), a TV miniseries based on the true events, features an unlikely group of elderly men robbing a jewellers and it is hard not to view the premise as a comedy.
Caption: Hot Fuzz showed that the most innocuous settings can be tense and dramatic.
What Would the Bingo Heist Look Like?
The bingo hall setting may change the film's tone slightly – they are usually in quainter areas, such as villages, and don't require as intensive a dress code as a casino might. But there could be scope for the film to keep its action momentum and take place in a bingo hall. After all, the 2007 remake of St Trinian's featured its own version of a heist during a TV quiz gameshow. Not only was this an unremarkable setting in the way of the heist, but was presided over by comedian Stephen Fry. Yet, the film was able to give us the tension we needed to wonder how out heroines would ever succeed. So maybe the heist film will take a comedic tone – similar to Edgar Wright's style in Shaun of Dead (2004) and Hot Fuzz (2007). Indeed, Hot Fuzz is an atmospheric and almost scary film about a cult-like entity in a village. The traditional English village setting isn't inherently scary, but the incongruity with murder in the village gives a tense tone to the laugh-a-minute comedy. The film could give us a comedy heist, similar to Steve Coogan's The Parole Officer (2001) or it could play it straight and see how a bingo hall could be used to change people's perspectives on what actually goes on in there. The setting would work – there could be a large prize or a heap of money for an annual tournament that brings in people from around the country or even world. As it is televised, they could be dressed well and the very best players from each nation could represent. This would give tension, international mystery and glamour. Many bingo halls are in architecturally sound buildings, so we could even have the aesthetic. And when the heist kicks off, unlike with a traditional casino movie, we wouldn't know what might happen.
Cinema is about reinventing stories with unique characters and settings. What could be more unique than a film set around a heist taking place at a bingo hall. The film sets itself up perfectly for the comedy angle, while also being able to slot nicely into a true action/adventure film, especially if something dramatic happened. The setting would provide an incongruous backdrop that would shock us that such events would happen there.