Essential
Summary
Eureka's Blu-ray of Wheels on Meals is a must-have for Jackie Chan fans as it has never looked or sounded better; the film is a riot and the special features just remind us why physical media is still the best way to own movies.
Plot: Fast food chefs Thomas (Chan) and David (Biao) find themselves cooking up trouble when detective Moby (Hung) involves them in the case of a missing heiress. The three friends need all of their daring and physical dexterity when they find themselves facing a triple helping of danger.
Review: Widely regarded as one of Jackie Chan's finest hours Wheels on Meals is pretty much everything you'd expect; Three Stooges style humour, not much in the way of story and some truly jaw-dropping martial arts, especially the climactic and iconic fight between Chan and Benny "The Jet" Urquidez which is one of the all-time greats.
Jackie Chan, Yuen Biao and Sammo Hung make for a likeable trio where Thomas (Chan) and David (Biao) team up with detective Moby (Hung) as they try to protect a pickpocket (who may be an heiress) from various evil doers.
The first half doesn't have much in the way of action and focuses more on establishing the characters and providing some laughs but we do get a fantastic scene when some bikers show up for no reason other than to get their asses kicked; if you see the outtakes as always Jackie and the crew aren't afraid to injure themselves for their craft.
It's the final 20 minutes which make this a classic with Chan's showdown against Benny "The Jet" as well as Yuen Biao battling Keith Vitali. Sammo Hung also gets a showdown and it's a rather awesome swordfight which is a major highlight.
The music is a little dated at times but there is an alternate soundtrack on this Blu-ray which is an improvement.
This Blu-ray from Eureka may be UK only (I have a region free player) but it really is a must-have as the film has never looked or sounded better; we also get multiple language options and the special features are worth delving into. It's mostly interviews with the cast but Yuen Biao's interview is one of the best as he goes into the three actor's early careers like how Sammo Hung got into the action genre before them and was just made for action films.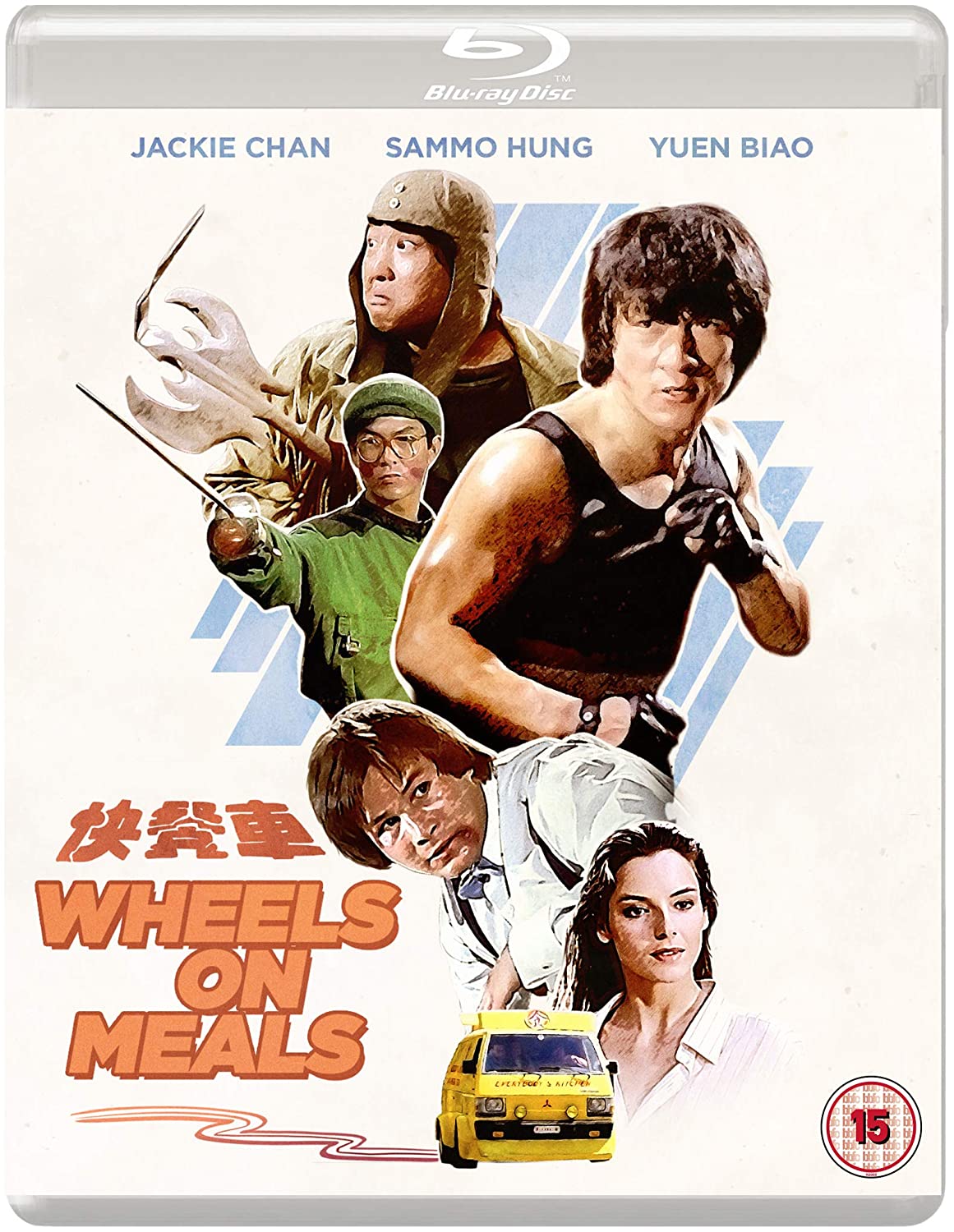 You can check out all the special features below:
SPECIAL FEATURES
Stunning 1080p presentation from a brand new 2K restoration
Optional English subtitles
Original Cantonese audio track, available in both original mono (LPCM) and newly restored DTS-HD MA 5.1
Optional English audio from the film's original international release, featuring an alternate (and much funkier) soundtrack, available in both original mono and 5.1
Alternate English dub track from the films 2006 DVD release (available in 5.1 only)
New and Exclusive audio option – a custom audio option featuring the original Cantonese dialogue track, but mixed with the alternate soundtrack from the international release
On Giant's Shoulders – An archival interview with Sammo Hung [7 mins]
An additional archival interview with Sammo Hung [10 mins]
Born to Fight – An archival interview with Yuen Biao [15 mins]
Jet Fighter – An archival interview with kickboxing champion and martial-artist Benny "The Jet" Urquidez" [28 mins]
King of the Ring – An archival interview with martial-artist Keith Vitali [33 mins]
The Inside Track – An archival interview with director and action choreographer Stanley Tong [34 mins]
Spartan X Alternate Credits – Alternate "blooper reel" credits from the Japanese release of Wheels on Meals [aka Spartan X] – can be viewed isolated or as part of the main feature
Additional Outtake footage [4 mins]
Original Theatrical Trailer
International Release Trailer
Original Japanese "Spartan X" trailer
Overall, Wheels on Meals is a massively entertaining Jackie Chan romp with the final 20 minutes having some of the best fights in the genre. Eureka's Blu-ray is essential for fans who want to know more about the movie and the cast.