Las Vegas is widely known as one of the gambling capitals of the world. But did you know the city in Nevada is also massively important for the film industry?
Many great movies have been set in Vegas – or used the city as a filming location – particularly those that sit within the action genre.
But why is Vegas thought of as the perfect place in which to film these action movies?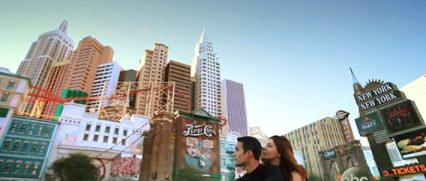 Financial incentives to film companies
One of the main reasons why Vegas has become so popular in the movie world is that there are so many different financial incentives on offer. A transferable tax credit of 15 per cent on qualified production costs is a massive advantage to filmmakers who are trying to make their budget stretch as far as possible.
Using Vegas as a filming location can also entitle people to bonuses for qualifying productions, which helps to explain why the city has become one of the most popular in America for movies. While there is a project cap of $6 million in place for the scheme per production, this amount of money can make all the difference to a director who wants to make a splash with their film.
Many top movies that have taken advantage of the financial incentives of shooting in Sin City have been a hit – either with the critics, consumers, or even both. Among the recently released films that were at least partly shot in Vegas are The Big Short, Creed, Free Solo, Unsolved: The Murders of Tupac and the Notorious B.I.G and Jason Bourne.
Vegas provides the ideal backdrop for action scenes
Movie directors rely on a lot of different tricks of the trade to get their film to stand out from the rest. One of these is through the use of dramatic, memorable backdrops and there are plenty of these to choose from on the Vegas Strip. This part of the city is instantly recognisable to people from all over the world, even if they have never actually been to Vegas themselves.
A movie like The Hangover – which helped to make the names of Zach Galifianakis and Ken Jeong – plays up to the stereotypes of Vegas being a party city where anything can happen. Its perfect location for shooting gambling movies is obvious as there are so many different casinos that can be used for filming, but action sequences work great in the city too.
Even James Bond has had a Vegas adventure captured on camera. Diamonds Are Forever saw the secret agent, who was being played by Sean Connery at the time, visit a Vegas casino and engage in a car chase down the Strip in a memorable sequence of a fairly forgettable film.
What are some of the best movies to have been set in Vegas?
We have already touched on some of the most popular Vegas-set movies of recent times, with The Hangover arguably the archetypal choice given it plays up to so many Sin City stories.
But there are plenty of other great movies, both in the action genre and in others, that have used the city as either a filming location or as a major part of the plot.
As an example, Steven Soderbergh's remake of Ocean's Eleven tells the story of a heist against some of the most famous casinos in the city. Any list of the best Sin City films must also include Casino. The Martin Scorsese-directed movie from 1995 includes one of Robert De Niro's finest silver screen performances. The Riviera is where a lot of this movie was made.
While Vegas might be the perfect place for a wild weekend, there is no doubt that the city has a dark side too. And this part of Vegas has arguably never been shown on film better than in Leaving Las Vegas, which starred Nicolas Cage and Elisabeth Shue. Cage was also one of the big stars of Con Air, which has a famous action scene that is set on the Vegas Strip.
According to Eric Preiss, director of the Nevada Film Office, Cage is no stranger to the city. Speaking about Cage, Preiss told KTNV earlier in the year: "He has a following of people that, when he's in a movie, they want to go see it. Now, he happens to be a Las Vegas resident now. He loves the city and he wants to continue to make films here."
How about Fear and Loathing in Las Vegas? Based on the Hunter S. Thompson novel of the same name, Johnny Depp explores all the depravity that Las Vegas has to offer visitors.
On your next visit to Vegas, why not check out some of the city's most-used locations?